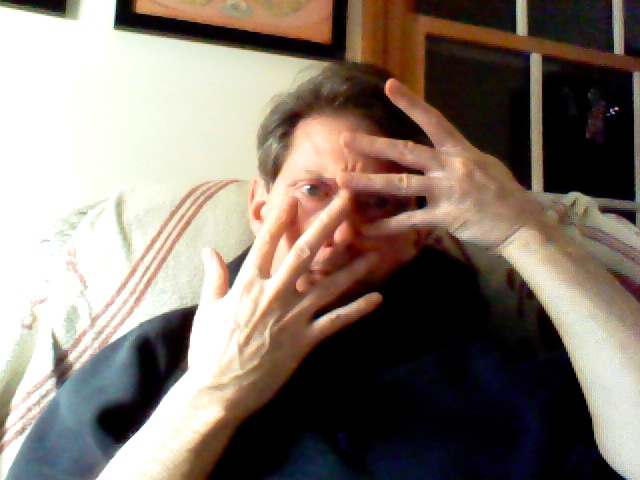 Posts by Elliott:
April 1st, 2017

Two People and a Boat

Elliott and I have long been searching for something we can do together once he retires. At one point–a long time ago–I thought that might be flying, but the older I've gotten, the more frightened of that I've become, much to Elliott's disappointment. Quilting isn't really Elliott's style, nor is running. Well, he runs–but he much prefers to do so by himself or just the two of us; races aren't his thing. For me, however, the energy of a race and all of its people give me added energy. So, running's out. Although we both like to read, that's more of a solitary pleasure. Kayaking's okay, but limited by weather and tides. We both vetoed golf, hunting, and a whole host of other ideas, for one reason or another.

Then we got invited to visit our friends Beth and Eric on their sailboat. I'd never been sailing before, and it was a perfect weekend. Slowly, the idea of getting our own boat took root. In June 2016, Elliott and I both attended the Windward School in Fernandina Beach for a weeklong sailing school, where both of us earned our ASA 104 certificates. (School isn't nearly as easy as it used to be, let me tell you! Engine mechanics requires a bigger brain and a heftier vocabulary than I have, I'm afraid.)

We started visiting marinas wherever we went, drooling over sailboats, learning what we could about what we wanted and didn't want. A well-maintained and gorgeous boat, Integrity, was just 25 feet long and we theoretically could step the mast ourselves if we wanted to join friends Cherie and Chris on the Great Loop–but sleeping would have been cramped and there was no kitchen. The Sneaky Tiki was gorgeous and everything we wanted, but a bit out of our price range. A 45-foot Bruce Roberts gave us a lot of room–but was probably more than two novices could easily handle. While Elliott searched and queried, I waited for the boat that would shout, "Pick me! Pick me!"


Sailing friends Kate and Fabio tied up in Jacksonville, just across the pier from Kathryn. Elliott visited the two of them, and it turned out the owner was getting ready to put Kathryn on the market. She's a Tartan 37, and has had only the one owner since her manufacture up in Ohio in about 1980. We indicated our interest, and set up a sea trial a couple weeks later. She sails like a dream. Smooth, gorgeous, and definitely worth waiting for. I heard her say "Pick me!" loud and clear.

Like any good prospective boat owner, we're having a survey done, in mid April. Boat surveyors act like home inspectors, checking into and under all the nooks and crannies that newbies like us wouldn't think twice about. "See these bubbles here? That might indicate a bit of rot under the paint." "Compression check shows one of your cylinders isn't…doing its cylinder thing." (Have I mentioned how I don't understand engine mechanics…yet?)

Hopefully, Kathryn will pass her survey with flying colors. We'll be down there that day, shadowing the inspector. If all goes well, she'll get a new coat (or two!) of bottom paint, as long as she's out of the water. And the next step will be moving her closer to us…and that means sailing!

I can't wait.

September 29th, 2015

After Oregon and Ann's sisters, we made our way south and east. Our route was very fluid, which is the way I like it best. I'm happiest when the plan is largely unplanned, and chance has a chance to work. In a word, serendipity is permitted to be the guide.

A circle of long-ago friends had converged on Palo Alto, California in the salad days of the tech and dot-com boom. They've been mostly out of touch, but through facebook we'd reconnected in that pleasant, vague way the social nets work. Doug Kalish had graciously invited us to "drop in" when he'd noticed we were hosting up in Oregon, and so, arriving in California, we did.

Doug was a good friend of my brother (seniors when I was a sophomore in high school), and his wife, Donna,  a classmate of mine, and the best friend of a girl I dated back then. That girl, Vicky Reich, lives in Palo Alto, too,  and hearing that we were visiting, stopped by  with her husband, David Rosenthal, to say hello after the zesty fish tacos Doug and Donna had whipped up for our dinner. Meeting Donna's sister, Debbie, added to the party. It was great fun to re-connect! ; to see how much and how little life has changed us all;  to see the achievements of truly good people leading fine lives.

The next morning after a breakfast frittata and a bracing walk with Doug, we packed back up and drove north and east to Yosemite National Park. Yosemite proved to be a difficult park to enjoy that day, in part because of its size,  and because it was a "free day"( very crowded!), but also because we got a late start on our way, and had scant time to explore. The dryness of the season, and five years of California drought made for a parched view of Yosemite's splendors. Feeling frustrated, we climbed out of the valley taking the eastern route at dusk into nightfall, and found a room at Bishop, CA. In the dark, we'd blown on past several points of interest Doug had recommended. The obvious remedy to those omissions and the poor job we made of seeing Yosemite is to return and hike them properly some day soon.

From Bishop, we took Hwy 266, a back road route up and over the mountains that define the western boundary of Death Valley.  This was a twisty and challenging two lane road, and every other car we saw seemed to be a jeep. The landscape was dry, but not barren, and certainly not without bright colors. The road was lined with yellow blossoms of what looked like eastern ragweed to me, but is probably something else. The geology was volcanic, with magma cores, and lots of basalt and obsidian formations. In the distance were bands of rich reds interspersed with white and sand shades.

Driving along we read to each other from 'Little Heathens' by Mildred Armstrong Kalish, a gift from Doug written by "Millie", his mom. It's rather wonderful; a memoir of growing up on an Iowa farm during the depression. It's full of details so very similar to my own mother's stories of childhood in Oklahoma in the same years.

Ruins at Palmetto, NV

On our way, we took special note of a small cluster of stone block ruins that flashed by on our left as we descended into the heat of Death Valley, itself. Traffic and a sharp curve prevented us from stopping, but we were able to identify the place as Palmetto, Nevada, a twice-failed ghost town from the silver rush days of the territory. Started in the 1860's, the town was stripped away and moved as the silver ran out. With new silver claims discovered in 1903, the town was rebuilt, but failed again in a few short years.

Our route carried us south, through Las Vegas, where I idly wished for a 'Museum of Fear and Loathing: A strange and savage commemoration of Hunter S. Thompson'. Alas, there is no such place. We stopped briefly on the shore of Lake Mead, but never caught as much as a glimpse of the Boulder Dam. We finally pulled off of I-40 and on to Route 66 at the town of Seligman, Arizona. Seligman's special charm derives entirely from the famous road it clings to.

We found an inexpensive room at the Romney Motel. It was clean, and provided everything we required, and offered a discount at Lilo's Grill, a wonderful family dining experience just five minutes by foot from our digs.  After supper, as we started our walk back, we found the "blood moon eclipse"  rising on the horizon directly in front of our path. It was a fine dessert to top our day crossing the desert.

September 25th, 2015

I'm posting from Jacksonville, Oregon under a waxing moon up a ridge overlooking pine and sage forest. This is the home of one of my sisters-in-law and her husband. It is her birthday and we are having a slow food meal, extended courses of Asian food lovingly prepared by Gary, my brother-in-law. Ann's family is warm, talkative, and close. Opening Meg's presents should be hilarious. It's nice to hang out with them.

The camper which sheltered us in such style over the last two months has been turned over to its new owner, a nice woman from Burlington, Washington. We gave the keys to her in a parking there, and hit the road south on our way to visit with Ann's three sisters in Bend, Ashland, and here.

Kate, the horse wrangler!

Kate, Ann's youngest sister, is a professional wrangler and horse trainer in Bend.We spent half a day visiting her ranch there. She works in wild horse rescue, and is perhaps the most passionate person about her work I've ever met. Every horse she introduced us to was saved from slaughter and the meat packers. (Yes, horse meat is processed hereabouts, for shipment to Europe, mostly.) She is an amazing person.

Ann, Meg, and Sue

Sue is Ann's sister in Ashland, and we lunched with her earlier today, and had the fun bonus of meeting her granddaughter, Ellie, and her mom Gretchen who we hadn't seen since her wedding three years ago. Many family smiles and hugs were traded over soup and melted cheese sandwiches. Sue is a healthcare professional and educator, with hundreds of patients indebted to her for her skill.

It's of more than passing interest that there are three mountains overlooking this region, called The Three Sisters: They are called Faith, Hope, and Charity, and they grace western Oregon's horizon in a line. Ann's three sisters- Kate, Meg, and Sue, and their families, are beacons for Ann in this region, the heartland of her tribe in the west.

September 19th, 2015

The wished for endgame to our summer-into-autumn on Orcas Island has happened: This morning we found a buyer for The Clipper motor home, and will turn over the keys in TWO DAYS. This was fairly sudden. We didn't really expect to find a buyer, but Craig's List and the posters we displayed here and there have been more effective than we expected. I've fielded some ten inquiries, and shown the camper three times in just a week.

Yesterday morning, I had a nice chat with a young woman who said to expect a call from her mom later on, and, indeed, her mother rang me up and we chatted for almost an hour about the features and finer points of The Clipper. She rode out this morning from the mainland on the earliest ferry, with daughter and grandson in tow, and graciously listened to my pitch.  Fifteen minutes after that, she put down a deposit on a fair price, and said they'd come back for it on Monday. Pow, just like that! So now we are cheerfully eating everything in the fridge, and thankful that I thought to pick up packing cartons the last time we visited the grocery store.

The road home will take us into Oregon so Ann can visit her sisters, then on into California and Nevada. We expect to see a friend or two passing through Arizona, and will make our way to Plactidas, New Mexico to return our borrowed station wagon. With luck and good weather, we hope to spend a day seeing friends at a Balloon Rallye near Albuquerque. And then it will be time to pack the Comanche, and begin the flight across the south to make our way home to Georgia.

It's been an amazing time, hiking and serving other hikers here at Moran State Park. I'm very grateful to the Friends of Moran for the chance to do all this, and to Ann for finding the opportunity, as well as encouraging me to jump on board.

September 11th, 2015

After a truly wet and chilly week bracketing Labor Day Weekend, the sun returned to Orcas Island, much as it has been throughout August. The rains were sufficient for Moran State Park to remove the campfire ban, but the season here is now largely over, and the number of campers but a fraction of last month's count. Cabin fever had me itching for a hike.

On a day trip to Deer Harbor, I'd noticed the trail heads, north and south, for Turtleback Mountain Preserve. This block of wilderness, although somewhat smaller than Moran, is its equal for hiking beauty. The preserve boundaries encompass Ship Peak and Turtlehead mountains, with well groomed trails ascending from the south end trail head past vista after vista. I was hiking with our friend, Darlene, one of the summer volunteers, and also one of the ice cream "wenches" at the Moran Park's 'Sugar Shack'.

Turtleback is less well known than Moran, and even in peak season will give one a very quiet experience in the wild, with much less hiking "traffic" than the Moran trails carry. Climbing up the South and West Overlook trails, I was surprised to find madrona trees of much greater girth than you typically see on the shorelines of Orcas Island, and at an elevation much higher. The overlooks encompassed the full length of West Sound, dotted with sails and ferries.

We stopped at Ship Peak for a rest and a spot of lunch. At this point, one crosses a ridge ascending Turtleback, and the views overlook the populated interior of Orcas Island, with a patchwork of farms, hayfields, orchards, forests and vineyards extending all the way to East Sound and North Beach. It's very different than most of the vistas seen hiking at Moran State Park, which reveal only forest lands extending to the eastern water passages, the mainland, and Vancouver Island.

Had we gotten underway earlier in the day, Darlene and I would have turned west above Ship Peak, and made the climb up to Turtlehead mountain, but the days were getting shorter, and our exit plan from the park entailed walking down to the NORTH trail head, and hitchhiking back to the car, parked at the south end. I didn't want to be thumbing a ride too close to sunset, so we turned east at the branch leading up the highest mountain at the preserve.

Even so, there are two overlooks with wonderful vistas along the north trail, Waldron Overlook and North Valley Overlook, followed by a steep descent to the trail head.

I informed Darlene that my secret superpower is hitchhiking, stuck out my thumb, and the very first car stopped and gave us a ride all the way back to the south end trail head. Our chauffeur was a lovely lady, the proprietor of the Blue Heron B&B, with a sweet old Labrador retriever. She went out of her way to deliver us to our car, and we shared a fun conversation as we rode.

Turtleback Mountain Preserve, although less well known, is one of Orcas Island many splendid treasures, and must be seen.

August 27th, 2015

Not long ago I posted about the shabby and inconsiderate behavior of a few of the visitors to Mt. Constitution. We call them voyeurs

Binoculars!? REALLY?!! Sheesh!

because of  their tendency to ignore the  privacy boundaries we've erected around the summit host campsite.

Two very good  friends from the world of full-time RVing got in touch after reading that post, and offered to send us some wonderful screening material that had served them well for years. While it won't prevent dweebs from stolling all around our rig,

Like privacy glass when it's in place. Wow!

it will at the very least, prevent them from seeing through our windshield.

Less glare, and clear viewing.

The stuff is called RV-QuickShades , and it arrived today. It is a UV protective fabric that reduces heat and sunlight damage inside the rig, while blocking visibility from outside. Yet, it permits clear viewing from inside our rolling home, looking out.

Of course, we will still have people milling beyond the signs and saw-horses we've deployed asking for a patch to call our own for our weeks here at Mt. Constitution, but our dear friend, Kendra, had a good suggestion for THAT problem. I can't wait to try it:

$7/100 ft roll, at Amazon, and free shipping with Prime.

August 26th, 2015

Yesterday's hike was a 1200 foot descent from Mt. Constitution (elevation 2409 feet MSL), and thence a slow 700 foot ascent through old growth forest, climbing back up to the peak of Mt. Pickett (Elevation ~1750 feet MSL).

The eastern lobe of Twin Lakes bathed in sunshine. Happy newts abound there.

The Twin Lakes trail has become very familiar, with its initial rocky switch backs, crumbly with gravel sliding under our feet like ball-bearings. The footing, thankfully, improves for most of the climb down, but is steep enough to make your knees complain unless one shortens one's stride quite a bit.

We added a stone to the cairn atop Mt. Pickett.

A fragment of an old "whiskey" jug led us to a geodetic marker…

At the lakes, we turned to Mt. Pickett, and made our way up through the old growth forest. The plan was then to do the loop around the south arch, a long wooded loop that would have us returning by Mountain Lake, but we changed the plan when I spotted surveyors' tape marking a new trail that turned east and north. It was exciting to explore this untraveled part of the park, not knowing exactly why it was marked, or where it was taking us. It led down the back side of Mt. Pickett, toward the shoreline, but ended suddenly below the last ridge lying between us and a very steep descent to the water.

We were at the last of the orange tape markers, when I noticed a black, shiny feature perched atop a fallen log about 20 feet to the right of the trail's end. I climbed under some limbs, and on reaching it, discovered it was a fragment of a black, earthen jug, with spout and handle still intact. It was next to a geodetic marker, much lower to the ground and harder to see.

A close-up of the marker.

It was obviously placed there to make it easier to find the geodetic marker. The pink ribbons marking the trail went no further, and we concluded that it had been blazed to take a surveyor's party back to that marker when needful.

With no further marked path to guide us, the obvious choice was to turn back, but we decided to climb that last ridge to see if there were any views out to the water. The ridge was steep, but with sound footing in soft mosses, and we were amply rewarded

The eastern vista to Mt. Baker. Nice spot!

for our effort with a beautiful picnic site overlooking Barnes, Clark and Lummi Islands and the channels between them. It was time for lunch!

After sandwiches, trail mix and water, we retraced our steps, and returning to the geodetic marker, I placed an animal skull we'd found on top of it, to note our passing. The return trek was even more exciting, in that we decided to take a short cut off-trail over a ridge to intersect the road north and west of Mt. Pickett. This saved a repeat of the climb all the way to the top of that mountain, sparing energy for the climb back up Mt. Constitution.

We circled the eastern lake at Twin Lakes, to be able to say that we did, and Ann checked that off her list. Turning uphill, we made our slow way retracing the switch backs, back up to our camper. The 1200 foot Twin Lakes ascent (actually ANY ascent back up here) is a real cardiac workout. After a cup of soup, and with a book in hand, I conked out for about two hours.

I described our hike the next day to a young park ranger who became passionate about the terrain we had explored. It is an area of old growth and bluffs overlooking a part of the park that he would like to see opened. If a trail could be improved there, it could make accessible a small piece of shoreline which Moran State Park has retained on the Rosario strait facing Barnes Island.

A sail craft moored at Obstruction Pass campgrounds.

He would like to see that become a rustic campground for backpackers, with marine access too, similar to the rustic campgrounds at Obstruction Pass State Park, a small marine-use sister park managed by the staff here at Moran State Park.

I'd like to see his vision made real too.

August 20th, 2015

This post is a shout-out to others living as nomads, especially any of you who have done the volunteer park host, docent, or light house "keeper" thing:

So, I glanced up the other day to see a guy with binoculars six feet in front of our motor home, smiling like a jack-o-lantern, and gazing in our front windscreen with his field glasses!

How do you deal with the curiosity of the public near your home? Ok, it's a camp site, but home is home…is where you hang your hat… and where the heart is…AND, HEY, YOU! THIS IS WHERE I LIVE!! BEAT IT!!!!!

From the very first day here, some visitors to Mt. Constitution have had a tendency to wander all around our camp site, which is the one and only hook-up here. It's a no-camping, day-use only part of the park, and we've got a little sign out there that reads, 'SUMMIT HOSTS – ANN & ELLIOTT'.  There are also saw-horses, and a polite sign which reads, 'PLEASE DON'T BLOCK RV SITE'.  Most people do "get it" that, "Hey, that must be a residency", and they respect the boundary.

But for a certain kind of person, every boundary is a challenge to their special entitlement to violate it. The first few times these dweebs would really raise my hackles, but with the passing days here, I'm considerably more relaxed about it, if no less disgusted by these creeps. I've learned to see the humor in their absurd conceit. If I have "the drop" on them, it's kind of fun to suddenly pop into view.  Like ambush journalist Mike Wallace barging into the corrupt politician's office, bang! There I am, all alligator smiles, asking, "Are you lost? Can I be of assistance?".

In fairness, sometimes they really are just disoriented, and in dire need of the restroom. Those people I cheerfully help and guide along.  But the voyeurs will blanch with shame: They've been caught peeping in your windows, and they know… that you know… what they were really up to…AND what they are. It's kind of wonderful to see them stammer, "Uh, no, … good-bye."  And off they slink!

Well played, Elliott… well played!  😀

August 20th, 2015

This little journey to Orcas Island, and experimenting with unemployment, early retirement, call it what you will, started without much planning. To say that the sudden decision to take three months of unpaid leave from my career was spontaneous is a major understatement. One minute, I was blithely puttering around the house, the next I was searching Craig's List for a cheap motor home in the Pacific Northwest. How do these changes happen? Or perhaps better to ask, "Why?".

We have met a number of people who live and travel full time over the past several years, and that life holds a certain allure for me. Many of these modern gypsies are in retirement, but not all. The young people who work and travel constantly are the most interesting of them. When it's time to retire, it's easy to think of selling the "farm" and hitting the road, but for younger people the point is that "farms" never held any appeal in the first place. Nomads don't imagine that they should ever cling to one permanent home, but feel at home as they travel. They are "permanent transients", to borrow Edward Albee's phrase from 'The Zoo Story', but joyously so. They do bond and form communities, both with people fixed in space, but also with other nomads with whom they crisscross paths over and again.  They've acquired skills that allow them to earn and be productive where ever they are.

My work is doctoring people's eyes, and as such hasn't lent itself to wandering off so.  I did have earlier careers where frequent travel might have been the normal mode. I might have become an actor, or remained in the military, but those paths didn't stick. Now I'm very close to setting the clinical work aside. Would I want to live constantly in 90+ square feet, caring for the vehicle and its "life support" systems, and thinking ahead to the next port of call, the next vista? Maybe…  maybe not.

But whatever I learn, it will be from having sampled the nomad's life for a time. It needed a leap from safety. A bungie-jump, if you will.

August 15th, 2015

This was on Ann's bucket list for our adventure as summit hosts here on Orcas Island. I was encouraging her to go, but hanging back for my own part at the expense. Then we found a hefty online discount for a tour boat out of North Beach, conveniently close to East Sound  just below Moran State Park. It was such a good discount that we were a bit leery, but Outer Island Expeditions proved to be very capable, with fast comfortable boats and enthusiastic, well informed guides.

After the safety briefing, we were divided into two groups, and boarded onto some VERY fast boats. We were on our way, streaking north into Canadian waters. Our sister craft was smaller, lighter, and a bit faster, and took off ahead of us. Our craft had a larger group, and better shelter from the elements, which we greatly appreciated on the return run, chasing the sunset.

We saw many, many orcas whales in the island channels, but also some lovely lighthouses, and a number of interesting ships. A Canadian destroyer was working its way south past us, as well as several British Columbia ferries. The whale watching traffic kept a respectful distance from the pods of orcas, and their good manners were monitored by a Canadian wildlife Mountie. Our group was a delightful set of people, with the occasional exception of one lady who kept nagging our captain to "get closer". With good grace, he explained that we were as close as was healthy for the whales, and to avoid a $10,000 fine.  Eventually she gave it a rest, and we got back to tracking parallel to the whales as they fed and played very close to the rocky shorelines.

The straits between these islands were close, and heavily trafficked, and at one point a pair of huge ferries appeared to be on a collision course.  They slipped past each other with perfect grace, giving us a spectacular show. I imagined that the din of their engines was a constant annoyance to the whales. Another close encounter yielded a great photo of a beautiful sailboat passing on our left.

However, the whales were first and foremost the main attraction.  Here are the best shots I was able to bring home, using a borrowed Nikon D-80 and a 70-200 mm zoom telescopic lens. (The camera body belongs to our neighbor Lori. Thanks, Lori, for making these pictures happen!)

We had a considerable distance to travel as the sun got low, but our guides took the time to stop as they spotted sea lions swimming in the channel, and enjoying a late sunbath on some rock outcroppings ashore. The sunset was becoming spectacular, and the light it cast on a number of retired island light houses was splendid. We passed by the Patos Island light house, which was the last manned lighthouse in the United States when it was automated in 1974. We've heard that it is still occupied by volunteer hosts who provide tours in season. 🙂

It was time to make tracks for our harbor at North Sound, and the guides sped south with the sun dancing with the wake. Ann gamely rode in the stern for the view, with the wind and spray, and so did I for most of the ride. The light shifted from golden to blood red as the boat throttled back into the no-wake zone leading into the channel at Smugglers' Bay.

It was a perfect outing. We were so pleased with the cheerful professionalism of the guides, and the company of our boat-mates. A bit chilled, but happy with the day, we went looking for dinner.