April 19th, 2008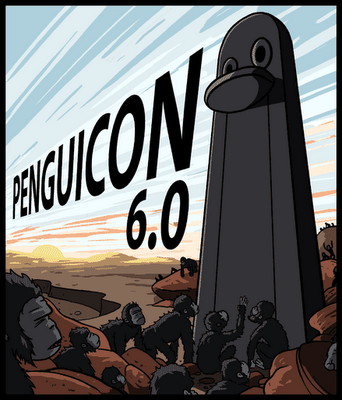 I located Chuck at his arrival gate at DTW airport, and we made our way to Troy in the rental car. A stimulating crowd at the hotel, as we registered for the meeting. We are roomed in surge accomodations away from the primary hotel ( a Hilton), in Embassay Suites. At the Con, itself, our first hour was spent watching a webcomix panel with the creators of XKCD (Randall Monroe) and DevilsPanties (Jennie Breeden), as well as three others I'd not heard of.
After that we drifted outside, and watched the Singing Tesla Coils. Very fine geeky musical fun, a pair of large Vandergraf generators designed to generate musical tones and melodies.
Next hour we wandered into a panel discussing the influence of steampunk in web-mix and literature. And yet another hour listening to former NASA employees , one of whom was Randall Monroe, discussing the influence of those jobs on their follow-on careers in web-mix and game design. All of this took us up to midnight.
~~~~~~~~~~~~~~~~~~~~
Almost 1am now, as I hack out these notes. Margie would have loved this scene. I'm finding it pretty stimulating, myself. No high speed here in the hotel tonight, but we'll spring for it tomorrow, and I'll upload some pix and vids. Must sleep…   gah!
Posted by admin at Apr 20, 2008 11:02 AM