February, 2008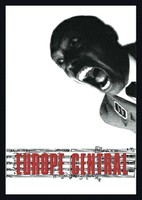 I've got more than the usual amount of experience in Eastern European theatre and play-craft. There was a time in my life when I was a resident actor/technician in a company devoted to raising translations of Russian, Polish and Chekoslovakian plays, back in the '70's on Long Island in New York.
So it's with the greatest of respect that I consider this challenging play. 'Europe Central' has a talented cast, a visually engaging set, and enough emotional fireworks to stimulate the senses and intellect.  That having been said, the play never grabbed my heart, and I left the theater feeling detached from the horrors depicted.
The play concerns a comparison of the atrocities of Nazism and Stalinism in early 20th C. Europe, and explores the yang vs. yin aspects of what happens in social turmoil; who is responsible, and who is suffering when the powerful practice oppression. It's also concerned with the interplay between despotism and the arts. There is gender-bending in the casting, and racial-bending, too. I found myself both amused and horrified at the casting of a black man as Adolf Hitler; amused at the lampooning of this demon of "racial purity", but horrified at the laughter it elicited from the audience, because that reaction was tainted with an embarrassed kind of racism of its own.
The play is based on William T. Vollman's book, which is itself a pastiche of history, art, and imaginary biography. The play is adapted with Vollman's approval, and represents a world premiere. There's a wonderful excerpt from Vollman's writing, and a review of this book athttp://contemporarylit.about.com/od/historicalfictionreviews/fr/europeCentral.htm .

All in all, this company has produced a good and thoughtful work, well worth the ticket price, and I hope they continue to play to sold out houses.