Sunday morning, 6am, and contented.
February, 2008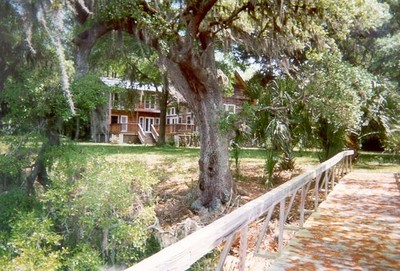 I drove down to be with Ann here in the marsh house Friday evening, and listened to an audiobook recording of 'Life, the Universe and Everything' on the way. Douglas Adams is wonderful company in the car.
Ann's presence in this house has humanized it, in part by spooking all the spiders, which have departed, and also by investing the place with little touches of herself, which are endearing to me: her basil plants germinating in a hydroponic garden, her bicycle with it's pannier-satchels for grocery shopping on the porch. There's a potted lemon tree on the front steps waiting to be planted in the yard.The house has come alive with her being in it, poor prisoner of circumstance that she is.
I brought her down from the Durham house her mixer, and the bread machine. Also the dvd player, which as it happens won't connect with either of our televisions here, sad old devices that they are. Instead, I ripped out the satellite receivers from the tv-addled tenants, and have made the remaining vhs player work well. The television does get one or two stations from Savannah, one of which is FOX, so she can catch 'House' or 'American Idol' if she wants to. (Ha!) She now has wifi, so she can untether from the DSL modem, and work in sunnier spots around the house if she wishes to, and there's a fax machine now, too.
My point today is this: you may not realize how beautiful this house has been, all these years standing mostly empty on the Savannah marshes, but with Ann in residence it has become so much more. It is alive and lovely with her being here, as have been all our homes.
Thank you, Ann.