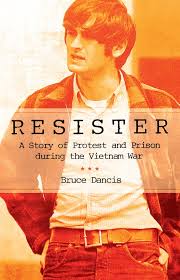 This makes my third narration in release, and I'm well-pleased with it. It's a story filled with a history I lived through, and close to home geographically, as well, set between metropolitan New York City, and Cornell University in Ithaca, NY.
The author, Bruce Dancis, tells of the commitment he and other student radicals of the '60's shared in their effort to stop the Vietnam war. The act of resisting conscription was deeply radical, a felony punishable by a crushing fine and hard time.  Dancis and his fellows in the Students for a Democratic Society did their best to inspire thousands to follow their example of destroying their draft cards, and flooding the legal system with "resisters"; young men refusing to support the  pointless and illegal war in Asia.
The book is available from Audible. Com , and please know this: if you are a new customer at Audible, and make 'Resister' your first purchase, it garners a bonus royalty for the narrator. Thanks!
You can hear audio samples of the book at Audible, or at SpokenArts, my production web site, where you can hear samples from my other projects, as well. The are 'The Calamari Kleptocracy' by Nicholas Sansone, and 'Headwind' by Christopher Hudson.
Thanks for listening!