Length: 9.17 miles. Time: 4 hours plus the time it takes to devour one dish of sorbet
Elliott and I completed the descent along Moran State Park's Little Summit Trail from Mount Constitution to Cold Springs a couple of days ago, and it was by far the easiest (so far) of our hikes. It's a mile and a half from the summit to the Cold Springs picnic area, where explorers can find a spring next to an old well.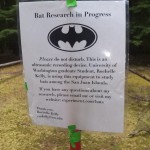 There's not much to see at Cold Springs–well, other than, you know, your typical enchanted green forest, mossy hillsides, and Mother Nature at her finest. There's also a bat project there that Elliott's been tangentially involved with. The area comes alive once people leave (or stop talking), with birds be-bopping around, squirrels chittering, and presumably bats doing their sonar thing.
The next hike, a day or so later, I followed that same path but continued on downhill past Cold Springs, where the trail begins a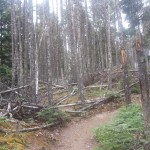 steep descent switchbacking toward Cascade Lake. Here is strong evidence of the windstorm that struck Moran State Park in 1972. Some of the upraised root structures look like nightmarish monsters. Unfortunately, since then, many of the second-growth Douglas fir trees have become infected with laminated root rot—perhaps as many as one in four trees, the rangers estimate. Part of that is also due to the stress the trees are under from the drought, as evidenced by the cascade of dry pine needles that descend on my head in a gentle breeze. A major cleanup effort in 2011 eliminated the worst cases of the root rot, but it is still prevalent. Thousands of western red cedar and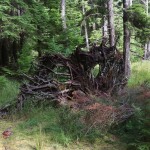 lodgepole pine—native trees that are not as susceptible to root rot—have been started and will be transplanted to the areas hardest hit by the fungus.
One of the plants I was hoping to find was the phosphorescent fungus I remember from Girl Scout camp days. I found several fungi that looked similar, but since it was daylight I couldn't quite tell if they were what I was looking for. Apparently, nearby Shaw Island is alive with bioluminescent critters, as shown in this (slightly reimaged) amazing photograph by Floris von Breugel.
A pileated woodpecker showed no concern as I traipsed along the path, nor did a squirrel happily munching a pinecone. I didn't see any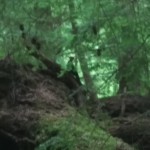 deer, though their tracks were all around. I met a few hardy souls hiking up as I went down, and ran into them again as I was huffing and puffing uphill and they were sprinting down. But my plans to do this in the mornings in order to pick up litter at the lake before going on duty at 11 at the top have been moved to the category of "Dream on," because that would entail hiking down in the dark, something not for my cautious feet.