Not long ago I posted about the shabby and inconsiderate behavior of a few of the visitors to Mt. Constitution. We call them voyeurs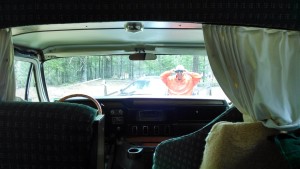 because of  their tendency to ignore the  privacy boundaries we've erected around the summit host campsite.
Two very good  friends from the world of full-time RVing got in touch after reading that post, and offered to send us some wonderful screening material that had served them well for years. While it won't prevent dweebs from stolling all around our rig,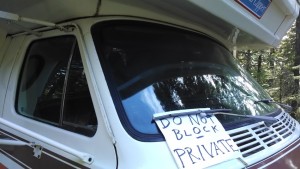 it will at the very least, prevent them from seeing through our windshield.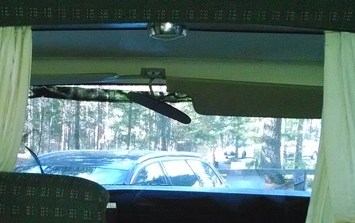 The stuff is called RV-QuickShades , and it arrived today. It is a UV protective fabric that reduces heat and sunlight damage inside the rig, while blocking visibility from outside. Yet, it permits clear viewing from inside our rolling home, looking out.
Of course, we will still have people milling beyond the signs and saw-horses we've deployed asking for a patch to call our own for our weeks here at Mt. Constitution, but our dear friend, Kendra, had a good suggestion for THAT problem. I can't wait to try it: