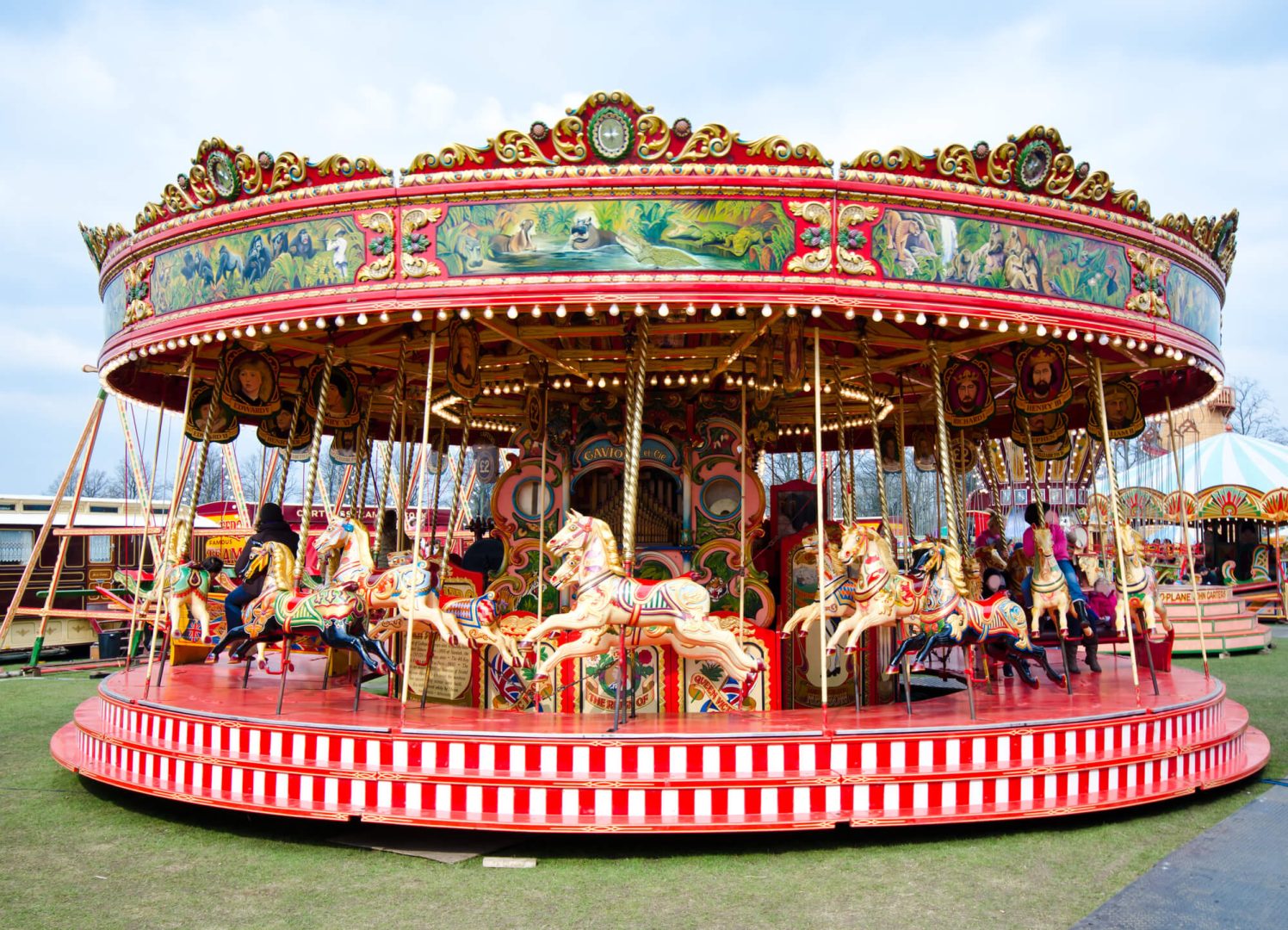 Let's sail to the Bahamas, we said, or maybe the Dry Tortugas. At least as far as the Florida Keys. Those were, however, just dreams. Southerly winds had kept us on the Intracoastal Waterway (ICW) for all but one day of our trip by the time we got to Fort Lauderdale, just 45 miles from the beginning of the Keys. And that's where we gave up.
There were two major reasons. The first was that the ICW bascule bridges (also called drawbridges, but on the water they're divided into single and double bascule, depending on the width and/or engineering) and are not timed for sailboats. The bridges open at certain times, say on the hour and half hour. As an example, when we pass through one bridge, we have 30 minutes to get to the next one—which would be fine if we could go 6 mph. But we can't, unless we have a strong wind and are not in the narrow ICW. Either it's not possible, or we just don't yet have the skill for sailing it—even assuming the wind was coming from the right direction. So we end up getting to the next bridge at 35 past the hour, meaning we have to hover in place for 25 minutes. Staying stationary is difficult in a sailboat, as the boat is at the mercy of the tides, the current, and the winds. And it is even more difficult to control when many, many powerboats at high speed tend to wake us, making helm management even that much harder.
And that's the second reason: the powerboats. The wake they set up, one right after another, is stressful. One large wake can send us crashing into something—a post, another boat, a paddleboarder—on the other side. And there are hundreds of those boats traveling up and down the ICW at high speed, some of them with four 450-hp engines. (Our 37' boat, by comparison, has one 40-hp engine from 1979.) Elliott is much better at handling the boat in those sorts of situations than I am.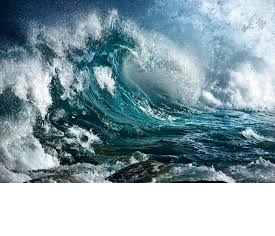 Between Fort Lauderdale and the Keys are many more bascule bridges, which limit how far we can go in a day when the timing doesn't work out. So we considered going "outside"—on the ocean. But that would require wind from the right direction, which wasn't forecast for close to a week, meaning we'd have to sit still in Fort Lauderdale for six or seven days. Ugh. The nearest dingy dock where we could go ashore was about two miles away, which was too far for us. We were anchored in Sunrise Bay, right off the ICW, and that spot is a favorite for day trippers—people who would come out, party with loud music, and then leave at sunset, making it noisy and full of those powerboats with their massive wakes, threatening to unseat our anchor. At least, that's what I was afraid of; Elliott was more confident of the anchor. I am, apparently, a Nervous Nelly (Anxious Annie?) sailor.
Between one thing and another, we decided to head north, back to Dallas Bluff eventually. So, in order to avoid the powerboats and the bridges, we decided to go on the outside as far as we could. The wind was from the right direction, the wave period was 5 seconds, and the seas were forecast to be 2 to 4 feet, which to us newbies sounded doable. We passed through the Port Everglades inlet (past a half dozen giant cruise ships) and started north–into a washing machine of waves and wind. Tossed back and forth, up and down, side to side—it wasn't long before I was starting to get seasick—and unable to do anything but keep my head over the edge of the boat. Knowing there was no way we could keep that up for two days, poor Elliott was left to handle the helm for nearly three hours straight in rough seas back to Sunrise Bay. We were both shaken up by the trip. If anything had happened to him, we would have been adrift, wandering who knows where. Experienced sailors would know that wave height is only part of the picture; now we know that too!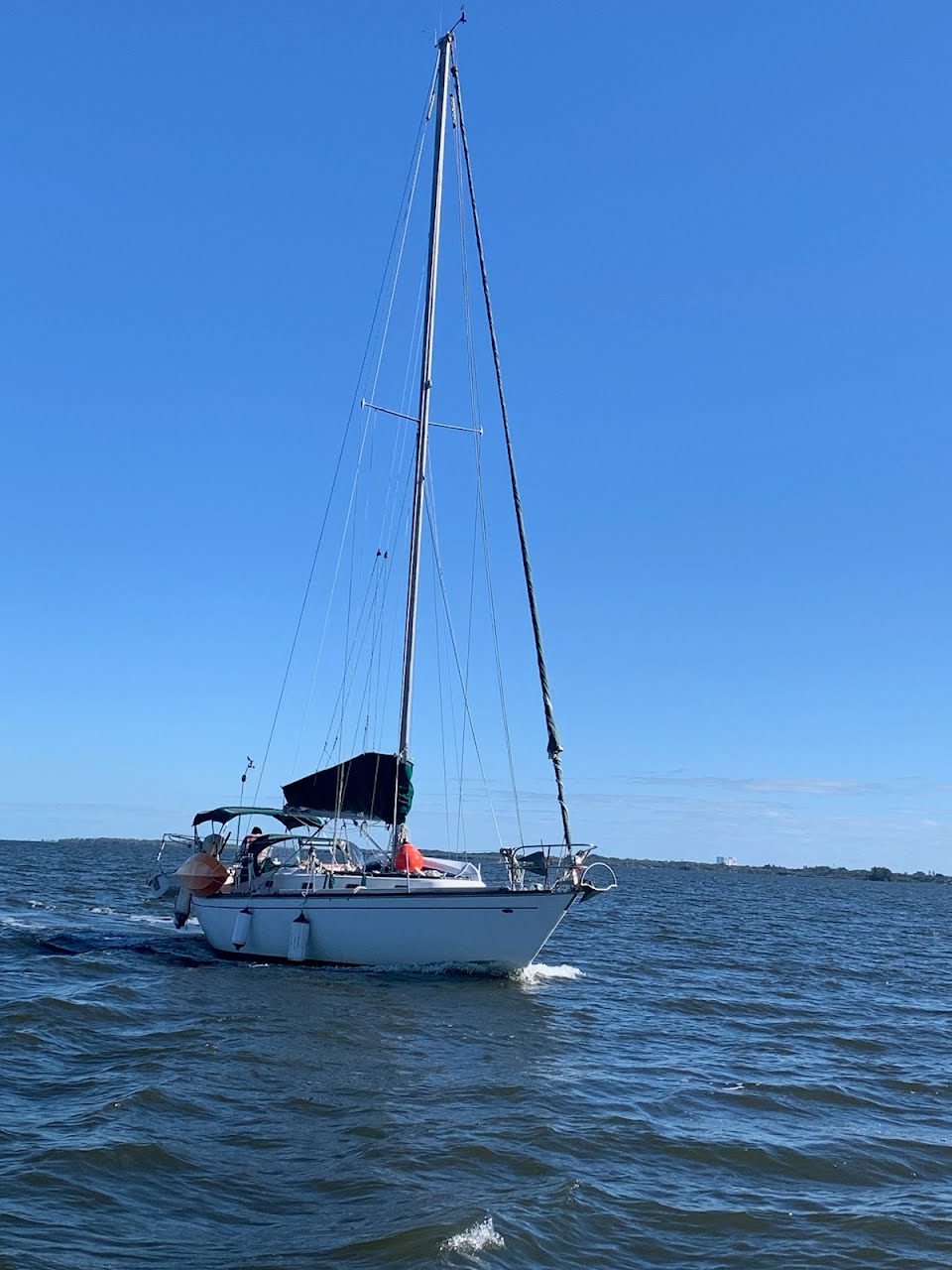 The next morning, the seas were said to be 1-2 feet with a 7-second period. That sounded better, so with some trepidation we set out again. And oh, what a difference! About 90 minutes in, with our sails up, we turned off the engine. Days like that are what sailing should be. Quiet, moving along at 6 knots in the right direction, we figured we'd be back in Georgia's waters in about two and a half days.
Knowing one of us would be at the helm all night long, we took advance naps. Around noon, half asleep, I heard the radio squawk: "Seatow, calling sailing vessel Kathryn"—and came wide awake. Seatow or Boat US is who you call when you need help. What was going on that Elliott needed Seatow? Turned out it was a wrong number—Elliott had been calling a tug, the mv East Coast, that was directly in our path and towing a large rusty container ship. Seatow has misheard the call and assumed we were calling for help. Whew! Elliott went down for a nap shortly later, and we had a thoroughly exhilarating sail through the evening. He pulled the first shift, from 8 pm to midnight, so I went down to sleep, though with an earlier nap, it was hard to fall asleep before 9. I awoke at 11 p.m., ready to help out and make coffee—but it wasn't long before the night just deteriorated into a (for me) living hell.
First, the preventer broke. In essence, a preventer keeps the boom from slapping from one side of the boat to the other, preventing an accidental jibe. The boom began swinging wildly, as we realized it had also broken the boom vang, which keeps the boom from going up and down too far. So now the boom is swinging every which way, and anyone going forward risked getting hit in the head by a gyrating boom. Elliott rigged a temporary preventer, and since he'd had no sleep, went down to take a two-hour nap. As soon as he went to sleep, our autopilot controller stopped working, which meant I would have to hand steer the boat—at the same time the wind picked up. I managed to hand-steer for about 90 minutes when I didn't think I could keep going, so I yelled for Elliott. At that point, we decided it would be best to motor, so we attempted to take down our mainsail and furl in the genoa (the forward-most sail). Alas, the genoa line was snarled somehow and because it's such a massive sail, we couldn't put the boat "in irons"—directly into the wind—and therefore couldn't get the mainsail down. So we let the sheets (ropes) on the genoa loose, causing it to flap all over, and finally got the mainsail down. Elliott went forward (life vest and jack lines secured to the boat just in case—while I practiced my "Man Overboard" call to the Coast Guard. I think he spent nearly two hours at the bow, between one thing and another, going up and down, left and right, but eventually he got it all working. Somewhere in there our new Vesper radio stopped transmitting so we had to switch to our backup radio. While all this was going on, we were making 1.6 knots instead of our planned 4 knots, and many of those miles were heading off in the general direction of Greenland. So much for our plans of getting all the way back to Georgia.
Also, I wanted bioluminescence, starlight, and a beautiful sunrise/sunset at sea. Alas, there were clouds and no bioluminescence at all. Or if there was, I was too focused on the compass to see it. So much for those romantic notions!
By 10 a.m., Elliott had the preventer fixed, the boom vang reattached, the autopilot working, but the Vesper radio was beyond help (even though it was only 14 months old. Addendum: and about to be replaced under warranty). And I was getting…nonresponsive from lack of sleep. My brain was going "Oh, look at the pretty numbers on the compass! Oh wait, I'm supposed to steer by them… Shit."
A word about how differently Elliott and I reacted to this stressful event. I think Elliott found it much more satisfying than I did. He'd see a problem, and then go solve it. Never mind he hadn't had sleep, it was important to do that task, whatever it was. And he was up for the challenge. For me, it was, "I'll think better when I have some sleep. Just let me nod off for half an hour, then I'll be good again…for a while." As I think about it, I've had very little prolonged stress in my life…short bursts here and there (exams, health events, normal stuff), but overall I'm pretty much in control and stress/drama free. Out there on the ocean, there is no control—at least for the non-mechanical among us. All I wanted was sleep, and that for perhaps 18 hours, or possibly 36.
We shortened our route and motored instead for the Port Canaveral channel. This was drama of a different sort, but at least it was daylight. The trip up the channel was rolly, windy, and required dashing across the channel in front of a Carnival cruise ship. By 3 p.m., we were tied up at a boat slip. We took showers (first time in 10 days—oh, the pungent life of a sailor!), and fell asleep.
As an addendum, the trip up the Canaveral Canal and through its lock the next morning were fantastic. We saw a bald eagle, a couple of roseate spoonbills, and flying fish. It was a slow motor to our next destination, Titusville, and that's just what we needed. We've been at Titusville Marina for a couple days now, and the perils of the night seem far away. I'm not sure I ever want to do an overnight again, but then, in the middle of that night, I didn't even want to sail again.
It seems the highs are really high on a sailboat, the lows are really low. Kind of like a roller-coaster. Personally, I've always liked the carousel better.