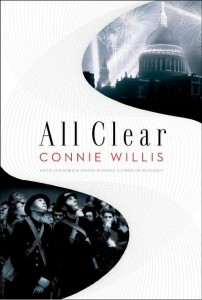 This feels awkward, because 'All Clear' is not so much a sequel, but is in fact a second half of its counterpart, the earlier novel, 'Blackout', which I reviewed prevously here. My assessment of 'Blackout', could be described as "tepidly enthusiastic". I was so enthralled by her work,'To Say Nothing of the Dog', and was primed for some wild kind of "book-gasm" with 'Blackout'. Well, I was disappointed, but hopeful as I launched into 'All Clear'.
When I wrote my little review of 'Blackout', I should explain that I had no conception of Ms. Willis' stature and success in the SF/F genre. Holy cow! Ten Hugo Awards, seven Nebula Awards, (which INCLUDES the award for 'Blackout/All Clear'), and a flotilla of nominations besides. So why, I ask myself, does this monumental and highly regarded dyptych still leave me unimpressed, and, frankly, a bit confused?
I think it comes down to this: that some "genre writing" (as one author recently referred to a conglomerate of SF/F/YA books) doesn't necessarilly require nor focus on STORY as its main staple for the reader, or maybe a tight, well-crafted story. The Aristotelian model of beginning, middle, end, with lovely, crisp story-arcs, that sail and rebound like the path of a tennis ball in a spirited volley; THAT is what I was left craving as I read through the 1000+ pages of Willis' masterpiece. This book hinges much more on setting, atmosphere, the ephemera of bric-a-brac, costuming, the tinge of colors borrowed from other literature of the time and place of which she is writing. It IS brilliant, and wonderful in its way, and necessitates a wholly different approach to the reading of it to extract and enjoy its savor.
Alas, it requires work and patience.
Two other comparisons come to mind: these books flow and feel a bit like quest-gaming. Reading them reminds me of my hours spent in the world of Zelda-Twilight Princess. There's such sumptuous detail, and a grinding journey through a hazardous world. The other comparison I would make is that of listening to complex music. You cannot breeze through a 40 minute sax improv by John Coltrane, and you cannot breeze through 'Blackout/All Clear', but you would do very well to devote the energy and attention to either.
The fault in my earlier take is one of learning to appreciate a different kind of reading. I will try to get better at it, for it does have its rewards…