Two People and a Boat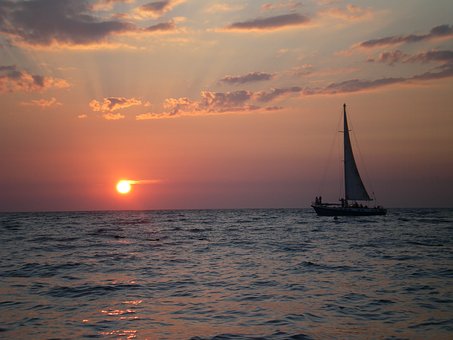 Elliott and I have long been searching for something we can do together once he retires. At one point–a long time ago–I thought that might be flying, but the older I've gotten, the more frightened of that I've become, much to Elliott's disappointment. Quilting isn't really Elliott's style, nor is running. Well, he runs–but he much prefers to do so by himself or just the two of us; races aren't his thing. For me, however, the energy of a race and all of its people give me added energy. So, running's out. Although we both like to read, that's more of a solitary pleasure. Kayaking's okay, but limited by weather and tides. We both vetoed golf, hunting, and a whole host of other ideas, for one reason or another.
Then we got invited to visit our friends Beth and Eric on their sailboat. I'd never been sailing before, and it was a perfect weekend. Slowly, the idea of getting our own boat took root. In June 2016, Elliott and I both attended the Windward School in Fernandina Beach for a weeklong sailing school, where both of us earned our ASA 104 certificates. (School isn't nearly as easy as it used to be, let me tell you! Engine mechanics requires a bigger brain and a heftier vocabulary than I have, I'm afraid.)
We started visiting marinas wherever we went, drooling over sailboats, learning what we could about what we wanted and didn't want. A well-maintained and gorgeous boat, Integrity, was just 25 feet long and we theoretically could step the mast ourselves if we wanted to join friends Cherie and Chris on the Great Loop–but sleeping would have been cramped and there was no kitchen. The Sneaky Tiki was gorgeous and everything we wanted, but a bit out of our price range. A 45-foot Bruce Roberts gave us a lot of room–but was probably more than two novices could easily handle. While Elliott searched and queried, I waited for the boat that would shout, "Pick me! Pick me!"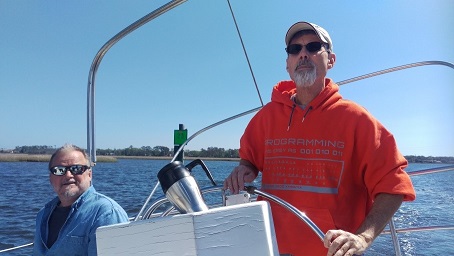 Sailing friends Kate and Fabio tied up in Jacksonville, just across the pier from Kathryn. Elliott visited the two of them, and it turned out the owner was getting ready to put Kathryn on the market. She's a Tartan 37, and has had only the one owner since her manufacture up in Ohio in about 1980. We indicated our interest, and set up a sea trial a couple weeks later. She sails like a dream. Smooth, gorgeous, and definitely worth waiting for. I heard her say "Pick me!" loud and clear.
Like any good prospective boat owner, we're having a survey done, in mid April. Boat surveyors act like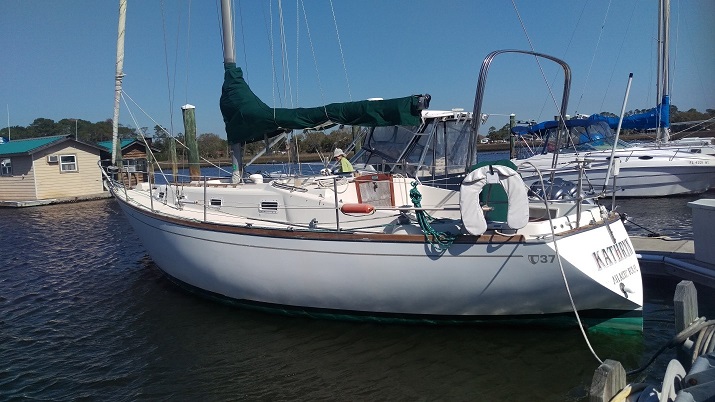 home inspectors, checking into and under all the nooks and crannies that newbies like us wouldn't think twice about. "See these bubbles here? That might indicate a bit of rot under the paint." "Compression check shows one of your cylinders isn't…doing its cylinder thing." (Have I mentioned how I don't understand engine mechanics…yet?)
Hopefully, Kathryn will pass her survey with flying colors. We'll be down there that day, shadowing the inspector. If all goes well, she'll get a new coat (or two!) of bottom paint, as long as she's out of the water. And the next step will be moving her closer to us…and that means sailing!
I can't wait.