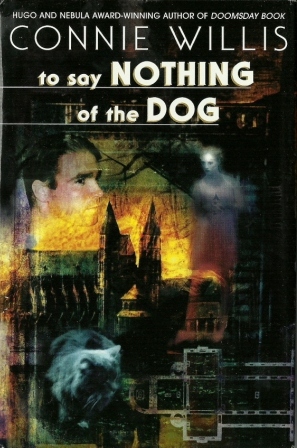 'To Say Nothing of the Dog' , as I came to read it in its entirety, is an interesting story, for I had started it once some years ago, and failed to progress in my reading of it.  The failure, time has shown me, was entirely my own.  For whatever reason, the distractions in my life prevented me from realizing what a jewel of a story Ms. Willis had crafted. I simply didn't know what it was I had in my hands, and so never got beyond the first chapter.  It worked something like this: this is supposed to be a time traveler's story, and here's this odd crew of weird academics picking over the wreckage of the cathedral at Coventry after having been firebombed by the Nazi's in WWII. Their incompetence is exceeded only by their fatigue. Their quest is to find a missing piece of Victorian bric-a-braq called "The Bishop's Bird Stump", and this at the behest of a tyrant-boss who needs to copy it to decorate a modern knock-off cathedral being built in the mid-21st century.  Somehow, this wasn't the time-travel yarn I was looking for at that time.
However, it should have been. What doesn't immediately make itself known about Willis' book is that it plays on so many different levels at once. It is as much about a future time when when historians might mine the past in person , as it is a gentle exercise in lampooning the Victorians both in person and through their literature, AND in the context of
a cosmos that is as forgiving of our tinkering with time as Willis' Victorians are of her lampooning of them.
It was my older daughter who eventually turned my attention back to this book, when she, in her quirky manner, quoted a meme from it, unreferenced, as her Facebook status one evening. She posted, "We are all, in a sense, Ensign Klepperman." This game requires that I figure out what the heck she is referring to, and few google searches later it came to me in a flash that these words derived from the odd time-travel book I'd started and never finished some five years before.  Klepperman's story and person are but a sidebar to illuminate the tasks of Willis' protagonists as well as her greater themes in this tour-de-force, but to say how in this review might be telling too much.
This much can be said: it is a truly great piece of fiction that can mull over more than a few profound questions about the relationship between the present and the past with SUCH a gracious and deft touch that the reader hardly senses the depth of the work beneath the constant and ongoing humor, until suddenly GOB-SMACKED by it with near lethal force at the conclusion.
I'm at present reading the second work in this series, 'Blackout', and in possession of the third such work, 'All Clear', so am well positioned to feast on Ms. Willis' works for some time to come. I'll write about those too, in time.
For now, though, take my recommendation for 'To Say Nothing of the Dog' to heart if you think you'd enjoy a warm summer's journey by boat in Victoria's England combined with a romp helter-skelter through other times, as well.