After Oregon and Ann's sisters, we made our way south and east. Our route was very fluid, which is the way I like it best. I'm happiest when the plan is largely unplanned, and chance has a chance to work. In a word, serendipity is permitted to be the guide.
A circle of long-ago friends had converged on Palo Alto, California in the salad days of the tech and dot-com boom. They've been mostly out of touch, but through facebook we'd reconnected in that pleasant, vague way the social nets work. Doug Kalish had graciously invited us to "drop in" when he'd noticed we were hosting up in Oregon, and so, arriving in California, we did.
Doug was a good friend of my brother (seniors when I was a sophomore in high school), and his wife, Donna,  a classmate of mine, and the best friend of a girl I dated back then. That girl, Vicky Reich, lives in Palo Alto, too,  and hearing that we were visiting, stopped by  with her husband, David Rosenthal, to say hello after the zesty fish tacos Doug and Donna had whipped up for our dinner. Meeting Donna's sister, Debbie, added to the party. It was great fun to re-connect! ; to see how much and how little life has changed us all;  to see the achievements of truly good people leading fine lives.
The next morning after a breakfast frittata and a bracing walk with Doug, we packed back up and drove north and east to Yosemite National Park. Yosemite proved to be a difficult park to enjoy that day, in part because of its size,  and because it was a "free day"( very crowded!), but also because we got a late start on our way, and had scant time to explore. The dryness of the season, and five years of California drought made for a parched view of Yosemite's splendors. Feeling frustrated, we climbed out of the valley taking the eastern route at dusk into nightfall, and found a room at Bishop, CA. In the dark, we'd blown on past several points of interest Doug had recommended. The obvious remedy to those omissions and the poor job we made of seeing Yosemite is to return and hike them properly some day soon.
From Bishop, we took Hwy 266, a back road route up and over the mountains that define the western boundary of Death Valley.  This was a twisty and challenging two lane road, and every other car we saw seemed to be a jeep. The landscape was dry, but not barren, and certainly not without bright colors. The road was lined with yellow blossoms of what looked like eastern ragweed to me, but is probably something else. The geology was volcanic, with magma cores, and lots of basalt and obsidian formations. In the distance were bands of rich reds interspersed with white and sand shades.
Driving along we read to each other from 'Little Heathens' by Mildred Armstrong Kalish, a gift from Doug written by "Millie", his mom. It's rather wonderful; a memoir of growing up on an Iowa farm during the depression. It's full of details so very similar to my own mother's stories of childhood in Oklahoma in the same years.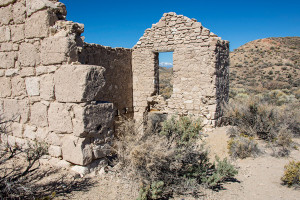 On our way, we took special note of a small cluster of stone block ruins that flashed by on our left as we descended into the heat of Death Valley, itself. Traffic and a sharp curve prevented us from stopping, but we were able to identify the place as Palmetto, Nevada, a twice-failed ghost town from the silver rush days of the territory. Started in the 1860's, the town was stripped away and moved as the silver ran out. With new silver claims discovered in 1903, the town was rebuilt, but failed again in a few short years.
Our route carried us south, through Las Vegas, where I idly wished for a 'Museum of Fear and Loathing: A strange and savage commemoration of Hunter S. Thompson'.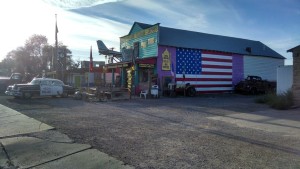 Alas, there is no such place. We stopped briefly on the shore of Lake Mead, but never caught as much as a glimpse of the Boulder Dam. We finally pulled off of I-40 and on to Route 66 at the town of Seligman, Arizona. Seligman's special charm derives entirely from the famous road it clings to.
We found an inexpensive room at the Romney Motel.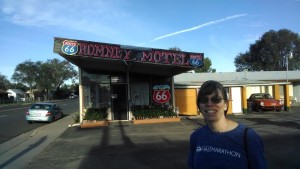 It was clean, and provided everything we required, and offered a discount at Lilo's Grill, a wonderful family dining experience just five minutes by foot from our digs.  After supper, as we started our walk back, we found the "blood moon eclipse"  rising on the horizon directly in front of our path. It was a fine dessert to top our day crossing the desert.