As I write this, we are 11 days from leaving Orcas Island. The time has flown by, and we still have a lot to do before we leave. Primary among those items is the decision on how to dispose of the RV if we don't sell it between now and then. (Day before yesterday, we listed it on Craigslist and posted notices on bulletin boards all over the island.)
We know we can store it here for a reasonable fee, but then what do we do? Try to sell it from afar? Come back and retrieve it? In many ways, selling it before we go makes a lot of sense because that would tie up loose ends, but even then, in my daydreams, I'm trying to find ways to come back to the island. (Family reunion? Retirement? This has been an awesome–in the best sense of the word, full of awe–experience.)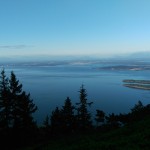 Orcas Island is a phenomenal place. The people–undoubtedly tired of the 800,000 tourists who come traipsing through here each year–have been uniformly gracious and friendly. The scenery–no matter where you look– is spectacular. The lifestyle is thoughtful and mindful, rather than the mindless rushing about of regular life. Crime is almost nonexistent. The arts flourish here. There are no chain stores (well, I did see a NAPA Auto Parts) and, compared to most of our lives, that is no drawback at all.
Stationed up here on top of the mountain, the weather is a little cooler and wetter than I'd like–but I hear it's warmer and sunnier down at the bottom, so maybe that's not as much of a drawback as it seems. (We're looking at five days of cold and rain coming up–naturally, on our days off when we'd like to get things done.) I'd like to do more running–flat, road running, not this trail running nonsense that eats up my knees, both inside and outside–and I've seen several gravel paths running through and near town.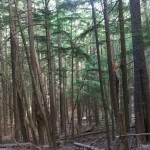 I feel a sense of community with this place. I don't know how well it would stand up to day-in, day-out, year-round living, but I sense it would be abundantly pleasant. Even allowing for the "grass is always greener" effect, it's far better than the mindless existence so many of us settle for.
But I am only one half of a couple, and it takes two to make things work. I think Elliott agrees with me on much of the above, but perhaps not enough to drop everything and move. And moving might destroy the dream. There are tough decisions to make. What I'd like to do is grab all the people I care about and move them here with me too–but that daydream is unrealistic.
Home is where the heart is, and part of my heart will always be here on the island, no matter where I'm living.