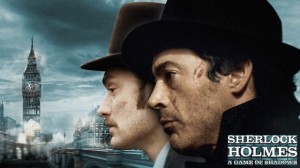 On Christmas Eve, I took my wife and daughters to go see the new Sherlock Holmes film, 'A Game of Shadows', and we all enjoyed its clever re-imagining of the detective as played by Robert Downey, Jr, a rather darkly comic version of the sleuth, with equal parts ninja and omniscient adept. While Ann has a low threshold for weapons that go bang and graphic puncture wounds, despite plenty of those even she pronounced the film a good one. Go see it, and its predecessor, if you enjoy the Holmes cannon on any level. You'll be glad for it.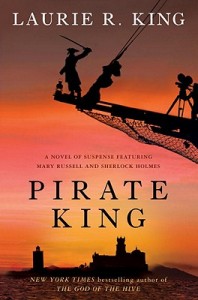 This Christmas did have a new release from Laurie R. King for her Mary Russell series with Sherlock Holmes (out last September, actually, but close enough), 'Pirate King'. Alas, my girls and I are so addicted to those that we read it before October was done, so it had no place in our stockings last week. It's a larky sort of Mary Russell novel, with distinctly silly bits to it, and so harder for me to warm up to, but sustaining enough, I suppose. It's my hope that King's next in the series has harder edges. Even so, if you enjoy Russell and Holmes, it will suffice.
And just this morning, I stumbled upon this review at Tor.com, by Niall Alexander, of a pair of Neil Gaiman stories which have expanded the Holmes canon; magnifying and extending it into unanticipated realms. It is a beautifully written and illustrated homage to Gaiman's extraordinary skill and finess as a crafter of stories.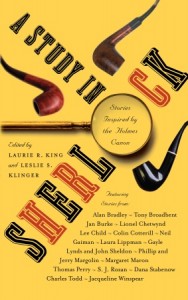 I mention it here to point my daughters at the link, and at the two Holmes stories it covers: 'A Study in Emerald' , and 'The Case of Death and Honey'.  Alexander has piqued my curiosity, and I'm off straight-away to re-read the first, via the link above.  'The Case of Death and Honey' may be found in the new release on the Poisoned Pen imprint, 'A Study in Sherlock', which is a collection of Holmes stories by contemporary writers.
It's my fervent hope that some deductive skills will have rubbed off on me from all this recent contact with the great detective. Then maybe I could figure out who sent us the gift of a new corkscrew this Christmas!  Ho, ho, ho!