Three days a week–Tuesdays, Saturdays, and Sundays–it is my responsibility to pick up litter in the day use area down by Cascade Lake. This is a recent addition to my duties because two of the volunteer hosts had to leave for medical reasons, and so the remaining volunteers have divvied up all their tasks. Since I have to start my day at the gift shop on Tuesdays and at the learning center on Saturdays and Sundays at 11 a.m., that means I have to get down to Cascade Lake and back up here before that time–and it's 4.3 or so miles each way, and normally takes four hours just to hike.
I could easily drive to the bottom–but we're in a borrowed car and are trying not to kill its transmission by going up and down the steep road more often than once a week or so. So I've started hitching a ride with the ranger or park aide opening up here at 6:30 a.m., do my litter-picker-upper job, and hike back uphill via the Cold Springs Trail.
Yesterday, Elliott went with me–and since I didn't have to work in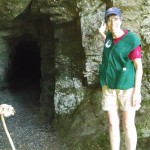 the gift shop, we had all day to hike. We stopped on the way down at a couple of abandoned mine shafts, where someone had gruesomely  placed a rabbit skull (Deer? Human?) on a stick at the entrance. Elliott bravely followed the shaft until it split in three directions and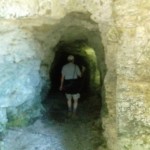 then opted to return to me, waiting at the entrance and ready to flee at any moment for help, life, or backup (depending on what he found). Near the bottom we also found what has to be one of the largest trees in the park, though the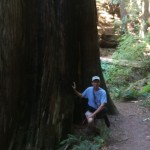 majority of them are to be found near Mount Pickett–a hike for a different day.
It takes about an hour to pick up litter at the beach, the parking lots, and the picnic areas. Although most people are considerate and dispose of their trash, there are sometimes those who simply leave their tables littered with used cups, paper plates, paper ice cream dishes, the remains of a dozen or so crabs, and so forth. Grrrr! Cigarette butts abound in the parking lot, presumably where someone waited for errant family members to arrive. The worst litter is the fruit sticker, since it gloms itself on to pavement, tables, grass, etc. Many people do stop me and thank me, and it does feel good to leave the area looking much better, so I guess I won't complain too much about the few.
After dumping the litter in trash cans, we took the Cascade Loop trail to Cascade Falls, where there are actually four waterfalls: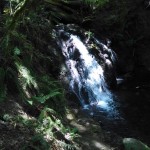 Rustic, Cavern, Cascade, and Hidden Falls, all found within about a half-mile of the trail. Cascade Falls is the tallest, at over 40 feet, and the highest in the San Juan Islands. During the course of our hike to Mountain Lake, the path followed the stream–and we found several other, unnamed but equally enchanting, waterfalls. We also found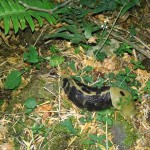 trail riders and a banana slug.
At that point, nearly nine miles into our hike, we called it quits and hitched a ride to the top with Gary, one of the park employees. Facing the last five miles–most of them a steep incline–on a by-now empty stomach was more than we could bear. Still, we're well on our way to covering all 38 miles of hiking trails in Moran State Park.