Yesterday's hike was a 1200 foot descent from Mt. Constitution (elevation 2409 feet MSL), and thence a slow 700 foot ascent through old growth forest, climbing back up to the peak of Mt. Pickett (Elevation ~1750 feet MSL).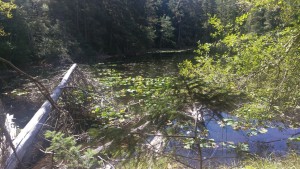 The Twin Lakes trail has become very familiar, with its initial rocky switch backs, crumbly with gravel sliding under our feet like ball-bearings. The footing, thankfully, improves for most of the climb down, but is steep enough to make your knees complain unless one shortens one's stride quite a bit.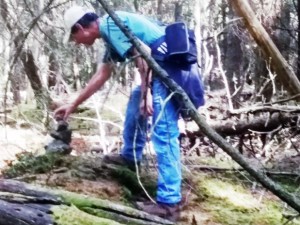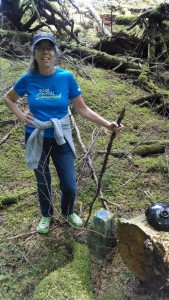 At the lakes, we turned to Mt. Pickett, and made our way up through the old growth forest. The plan was then to do the loop around the south arch, a long wooded loop that would have us returning by Mountain Lake, but we changed the plan when I spotted surveyors' tape marking a new trail that turned east and north. It was exciting to explore this untraveled part of the park, not knowing exactly why it was marked, or where it was taking us. It led down the back side of Mt. Pickett, toward the shoreline, but ended suddenly below the last ridge lying between us and a very steep descent to the water.
We were at the last of the orange tape markers, when I noticed a black, shiny feature perched atop a fallen log about 20 feet to the right of the trail's end. I climbed under some limbs, and on reaching it, discovered it was a fragment of a black, earthen jug, with spout and handle still intact. It was next to a geodetic marker, much lower to the ground and harder to see.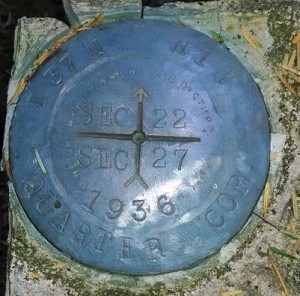 It was obviously placed there to make it easier to find the geodetic marker. The pink ribbons marking the trail went no further, and we concluded that it had been blazed to take a surveyor's party back to that marker when needful.
With no further marked path to guide us, the obvious choice was to turn back, but we decided to climb that last ridge to see if there were any views out to the water. The ridge was steep, but with sound footing in soft mosses, and we were amply rewarded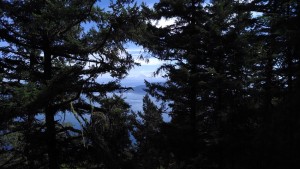 for our effort with a beautiful picnic site overlooking Barnes, Clark and Lummi Islands and the channels between them. It was time for lunch!
After sandwiches, trail mix and water, we retraced our steps, and returning to the geodetic marker, I placed an animal skull we'd found on top of it, to note our passing.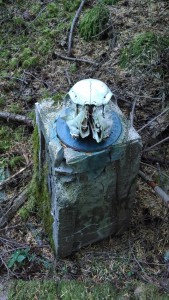 The return trek was even more exciting, in that we decided to take a short cut off-trail over a ridge to intersect the road north and west of Mt. Pickett. This saved a repeat of the climb all the way to the top of that mountain, sparing energy for the climb back up Mt. Constitution.
We circled the eastern lake at Twin Lakes, to be able to say that we did, and Ann checked that off her list. Turning uphill, we made our slow way retracing the switch backs, back up to our camper. The 1200 foot Twin Lakes ascent (actually ANY ascent back up here) is a real cardiac workout. After a cup of soup, and with a book in hand, I conked out for about two hours.
I described our hike the next day to a young park ranger who became passionate about the terrain we had explored. It is an area of old growth and bluffs overlooking a part of the park that he would like to see opened. If a trail could be improved there, it could make accessible a small piece of shoreline which Moran State Park has retained on the Rosario strait facing Barnes Island.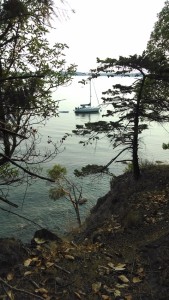 He would like to see that become a rustic campground for backpackers, with marine access too, similar to the rustic campgrounds at Obstruction Pass State Park, a small marine-use sister park managed by the staff here at Moran State Park.
I'd like to see his vision made real too.