A Mission At Dawn
Yesterday, Ann and I set out on a special mission, its purpose one of compassion. We were determined to bring about a happy reunion, but I'm getting ahead of myself…
Orcas Island is one of the San Juan Islands, the largest of which are served by a state-sponsored inter-island ferry service which is free to pedestrian and bicycle traffic. It's popular to hop the ferry over to the other islands to see their unique sights, and savor their special ambiances. All well and good for tourists, but we were not tourists! (Ok, we WERE tourists, but, hey, it's called MULTI-TASKING!)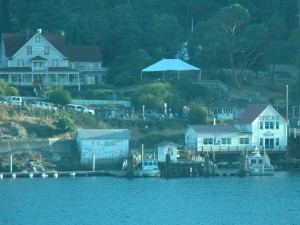 Up before dawn, and with but coffee for our breakfast, we drove down the summit, re-securing the night gate  behind us.  We made our way to the ferry at West Sound, where  the Orcas Hotel provided round two of coffee, with a side of muffin. Incidentally, the grill and tap room at the Orcas Hotel is just wonderful, with an old jukebox sporting a bronze plaque dedicating it to some previous managers of the hotel. The place looks like a proper Fawlty Towers sort of B&B, but without Basil Fawlty to gum up the works. The ferry arrived, and off we went, sufficiently caffeinated, into the rising sun, gliding across the inlets and channels of the San Juans.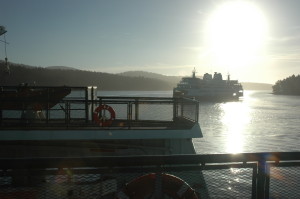 At Friday Harbor, our mission was to find Cammille, who was waiting at (according to my memory of it) some vaguely nautical sounding coffee shop. I asked several people where to find 'The Salty Dog'.  She was awaiting us seated, just where she should be, in a place called 'The Crow's Nest'.  (Ok, that worked! ) Next up: The Joyful Reunion…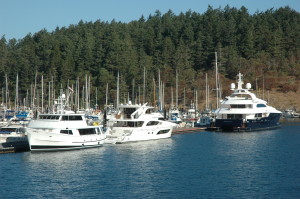 The Joyful Reunion
"Are you Cammille?", I asked.
"Yes, are you Mr. Walsh?", said Cammille, a hopeful light in her once sad eyes.
"I am! This is Ann, and here…", I said, "…is your wallet!", producing the once lost object with a flourish.
Cammille had dropped her wallet at the summit of Mt. Constitution the previous day while biking up there on a day trip from San Juan Island. A kind and honest soul had turned it in to us unmolested, and we had located Cammille by searching the internet. LinkedIn yielded a business name, which in turn helped us to obtain Cammille's cell number, and our rendezvous was thus established. It seemed like a great excuse to day trip to Friday Harbor. Ann and I smiled, mission accomplished, and prepared to take our leave, but Cammille wouldn't hear of it, and offered to drive us around San Juan, and show us the sights. "Delighted to!," said we.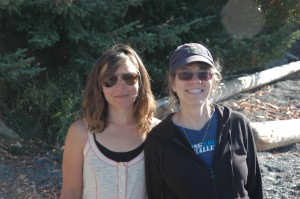 Cammille's stories about working, biking and vacationing on San Juan were even better that the amazing coastal trails she hiked with us. A northern Californian, she had been living there for the past few months doing body work for a spa. Time would eventually take her back to California, but in the meantime she was enjoying the beauty of these islands. Here's a small gallery of the sights we saw yesterday: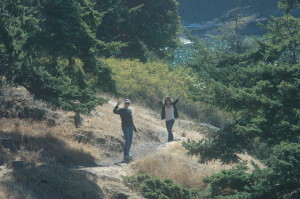 Such an amazing place we're living in, and with such wonderful people!