Ann and I have a bad tendency to be stay-at-home mud-sticks. After two-plus years of living on the Georgia coast, we can count on the fingers of one hand the new restaurants we've visited. So we've made a New Year's resolution and pact with our friends, Ted and Lori, to take ourselves out to someplace new for a good meal once every month.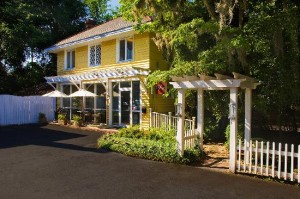 February's choice last night was Cafe 37 , a cosy and unassuming bistro tucked into the ground floor of a commercial conversion of one of the old houses on 37th Street at Abercorn, in Savannah. The kitchen, we were told, is upstairs, and I forgot to ask if they use a dumbwaiter to shuttle plates and platters up and down. (I always loved the silliness that dumbwaiter-business permitted in old movies, people cramming themselves into them, or climbing up the ropes in noir mysteries.)
Our table was waiting for us, and throughout the evening the service was congenial and precise.
For openers, the table bread was fresh and piping hot. Three of us had the house salad, which was garnished with hot sugar-glazed pistachios and a sweet dressing. Ted shared bites of his escargot in roasted-garlic butter.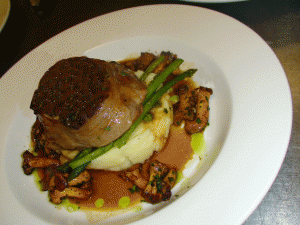 I ordered the seed-encrusted tuna, flash-seared and very rare, on a bed of couscous, and garnished with tart greens and papaya. Exquisite! Ann had the red snapper in a generous and meaty lobster sauce, with greens, mushrooms and vegetables. We shared many bites, and couldn't decide which was better. Our friends ordered the tuna, and the filet mignon, which was garnished with baby asparagus, and looked just splendid.
The wives were four-square onboard for Afters, while the men spent a moment hanging back, but in the end one of EACH of the four dessert offerings was ordered and brought to table, with a pact made to take a bite and pass the plate round.  It was a carousel including: 1. A rich chocolate flourless-torte cake. 2. A molten-chocolate-lava dessert, semi-sweet with a dab of real whipped cream. 3. A New York-style blueberry cheesecake. And 4. A fabulous creme-brulee. The plates gathered speed, reversed course, and started making direct crossings of the table as well. Soon it was a free-for-all resembling a figure-8 demolition-derby. Fortunately, no crockery got smashed.
It was a wonderful evening, and for Ann and me, an early St. Valentine's celebration. Cafe 37 has our whole-hearted recommendation for fine dining in Savannah. I hope you try it sometime soon.