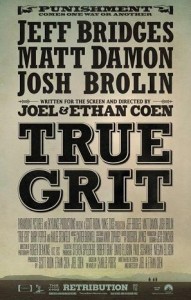 The "western" in Amercan cinema was never one of my favorite genres in my youth. My father had a taste for "cowboy shows" on television back then, and I never much cared for them. I think the stylization and falseness of the archetypical towns, "good guys", indians, crooks, cavalry, et al, just added up in my kid's mind to so much phony dreck.
Since then, there have been a number of western films that have won me over: 'McCabe & Mrs. Miller' comes to mind, along with 'Silverado', and 'Jeremiah Johnson'. To those, I can now emphatically add the Coen brothers' 'True Grit'. It has a clarity and honesty throughout that just never lapses. The settings, costuming, language, action, story and music are convincing and with a "rightness" that is nearly flawless.
I was surprised to read on wikipedia that it was filmed, edited and brought to market in very short order, with a shooting schedule that started in March of 2010, in time for a "Christmas" release on December 22 that same year. The notes in wikipedia, however, don't report exactly when set construction or any of the other heavy lifting of other pre-production began. The project was rumored as early as February, 2008.
My admiration for the flick derives almost entirely from the authenticity of these western characters, and, too, how clearly this is a western story told from a young woman's perspective, or, more accurately, a precocious child pressed into early adulthood through unfortunate circumstances. It is Mattie Ross' "true grit" which drives the story, not the force of Marshal Rooster Cogburn's fading "grit", or the staunch honor of the Texas ranger, LaBoeuf. Mattie is beautifully played by newcomer Hailee Steinfeld, Cogburn by Jeff Bridges, and LaBoeuf by Matt Damon. While Steinfeld and Bridges both scored Academy nominations (Best Actor and Best Supporting Actress), it was Matt Damon who better deserved an honor for transforming himself within his role. He was not recognizably himself, and became the spit and image of the rough but knightly Ranger LaBoeuf.
If an honest "western" is your thing, and you missed this one, or if you, like me, cannot let one of the Coen Bros. films pass you by, be sure to see this one when you can. The dvd/blu-ray disc was released on June 7th. And if you know of other western films you think I might like, please put it in a comment to me below, and I'll give it a try. Thanks!