This is an almost 7-mile loop at Moran State Park–though my GPS registered it at 11 miles. I'm learning not to trust my GPS here. It takes about 3 hours to complete, and is rated "difficult" because it has a 1490 foot elevation loss/gain. If you start at the top, the only "unmarked" portion is at Mountain Lake–it *is* marked, but only if you look back over your shoulder after you pass the picnic area.
One of the most interesting parts of this hike is the changing ecosystem. Near the summit, much of the ground is rocky, with brush and small trees emerging from the bedrock–as if you were above the tree line, though that isn't really the case, as some of the trees at the summit are taller than the tower itself now. On the Twin Lakes trail, trees are old, huge, and mossy, like childhood images of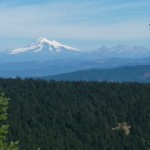 an enchanted forest, sunlight streaming down in sparkling rays to lead you away from the haunted witch's house. Further down the trail, trees are younger and taller, and trails are smoother. The sky is more visible, and the view opens up to the snow on Mount Baker, over 10,000 feet high and more than 100 miles away; from the trail, you can imagine you're looking down on it. Then after Mountain Lake, the uphill trail becomes extremely steep and rocky, the remnants of an old pathway for phone lines back when crank phones were still used.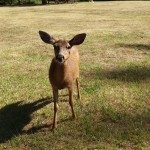 I didn't see any black-tailed deer on my hike (this photo came from the day before, without any telescopic enlargement), but that's probably due more to the time of day than anything else, as they are prevalent all over the island, and blasé about humans. "Got food?" they seem to ask, though we've been warned not to feed them because they can be unpredictable. One night around 10 p.m. we were startled by the sound of someone shuffling through the gravel right next to the RV. It turned out to be a curious deer in search of food or company.
The trail from Twin Lakes to Mountain Lake was wide, flat, and suitable for trail running in most places. (I tried running for a short distance, but I'm too unsure of my footing. Each rock and root became a major obstacle to my peace of mind.) The path narrowed somewhat when getting to the lake, but from a distance I could hear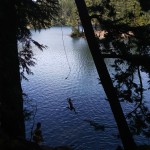 the sounds of swimmers, boaters, and campers. The loudest shrieks came from kids on a rope swing halfway down the east side of the lake. A small boat ramp showed where kayaks and inflatables put in, and a boat of fisherpeople was loading just as I arrived. The Department of Fish and Wildlife stocks trout in the lake, and both trout and Kokanee salmon are found in Cascade Lake.
And then the hike became a serious uphill trudge. Up till now, it was all pretty much downhill–all 1500 feet of it. The next mile was so steep I found myself stopping often to catch my breath, with all sorts of "what ifs" going through my head. There is no cell phone serivce here, so–What if I fell down a ravine? What if I twisted my ankle? What if a tree fell on me? None of these was likely, so I shoved the thoughts out of my mind and concentrated on the trees and plants around me. The path parallels the road for a while, then branches off toward Little Summit, only a short three-tenths of a mile away. At that point, it might have been 300 miles, as I was too focused on getting back to the top in time to check in at the Summit Learning Center. I've been told the views to the west at Little Summit are unlike those at the top, which are to the east. Now, a couple of days later, I'm wishing I'd taken the time to go, but I guess that'll be a tale for another day.